Below, the opening paras of a useful review, to say the least, of what looks like the major anthology of French poetry since 1960. I haven't gotten ahold of the book yet, but both anthologizers, Yves di Manno & Isabelle Garron, are excellent poet-scholars, so I am confident of their collaboration. Interestingly enough, it would seem that one of the angles from where they go at evaluating the poetry of that time is via the new American post-war poetry. See the cover of the book below, making the idea of "a new world" "Un Nouveau Monde" — the title of the anthology— clear via an American (or, maybe they imply…?) a post-american image.
A limit of the book, also noted by the reviewer in Media-Part, is that it remains confined to "metropolitan France," i.e. does not take into account the vast store of poetries produced during those years (years that nearly exactly define post-colonial times as Algeria, the last colony — though in fact there are still a number of DOM-TOMS, including Césaire's Martinique— got independence in 1962) in French in the ex-colonies — for me, among the strongest, if not the strongest French-language poetry of those years. But obviously, any anthology has to delimit its range & there is nothing intrinsically wrong with taking hexagonal France as such a limit. From the reviewers lauds of the inclusion of information and details of the magazine scene in which this work appeared, and from the sheer bulk of the opus — 1,500 pages! —the book is indeed very impressive. Can't wait to get my hands on it. Yves, Isabelle, how about a second volume, breaking down those borders?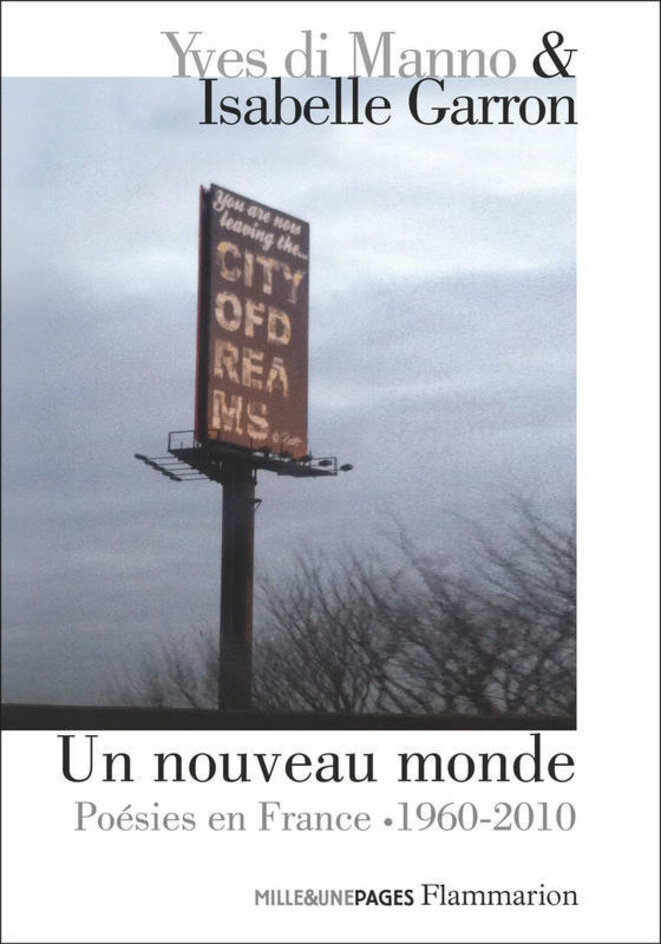 Le tropisme américain d'Un nouveau monde (couverture de l'anthologie)
La poésie française promet un nouveau monde
Poètes tous deux, Yves di Manno et Isabelle Garron se sont attachés en une somme de 1 500 pages à donner leur version du demi-siècle écoulé de création poétique « hexagonale ». Intitulée sans barguigner Un nouveau monde, cette anthologie singulière, provocante à bien des égards, incite à revenir sur les pas que l'on dit perdus de la poésie française.
En intitulant Un nouveau monde leur anthologie sur les « poésies en France » du demi-siècle écoulé, Yves di Manno et Isabelle Garron ne font pas mystère de leur intention : ils entendent remettre les pas que l'on dit perdus de la poésie française dans les sillons de celle de langue américaine. Loin d'un « nouveau monde » empreint de sacralité, le lecteur doit s'attendre à une initiation profane, moderniste. De fait, les deux auteurs de cette anthologie critique postulent dans les arts, et notamment la poésie, une « grande révolution moderne » qui a touché le monde occidental dans son ensemble. Mais la vague formée en France à partir de Baudelaire, parvenue à son faîte dans les années 10 et 20 du siècle dernier, n'aurait pas eu l'effet escompté en matière de « redéfinition des formes poétiques ». Car telle est leur conviction profonde : à trop prêter l'oreille à des voies de communication inouïes entre les êtres, à hauteur verbale stratosphérique, le mouvement surréaliste a empêché la poésie française de s'enquérir de « formes nouvelles », de « considérer le langage dans sa densité matérielle ».
Si l'ouvrage de ces deux arpenteurs d'Un nouveau monde pour la poésie, associant de façon assez inédite la très attendue recension anthologique à une approche par les œuvres, peut être contesté en raison de son orientation formaliste, forcément exclusive, il n'en mérite pas moins la plus grande attention des lecteurs de poésie. D'une part au regard de la démesure de ce projet : couvrir un demi-siècle de « poésies » entre 1960 et 2010, en concoctant une sorte de bilan avec pertes et profits, voilà qui ne manque pas de piquer la curiosité. D'autre part, parce qu'étant eux-mêmes des acteurs impliqués, les auteurs font prévaloir sur toute autre considération les pratiques des poètes, seraient-elles discutables.
Par ses gloses explicatives, ses nombreux essais de situation, des auteurs ou des revues, voire ses impasses à demi avouées, ce livre dispense quelques clés de compréhension sur la poésie telle qu'elle s'est écrite « en France ». Et c'est en soi remarquable, même si l'ensemble des pratiques et des sensibilités reste difficile à articuler. Car force est de constater que pour tout viatique éditorial, la poésie est devenue, de tous les arts, celui qui se cantonne et cède le plus volontiers à cette « tentation anthologique » relevée, et justement critiquée, par l'historien de la littérature William Marx. Ainsi, depuis les dernières décennies du XXe siècle écoulé, aux côtés d'ouvrages classiques d'histoire littéraire, on ne compte plus les anthologies consacrées à la poésie française dont l'esprit de découverte est masqué par un exercice d'autocélébration. Comme si leurs auteurs (bien souvent des éditeurs, poètes eux-mêmes) cultivaient leurs jardins sur les cendres entretenues des manifestes poétiques passés.
ctd. here.
(Visited 206 times, 1 visits today)