Coming Monday the serialization of Abdelwabab Meddeb's The Malady of Islam will continue. Meanwhile, a station break: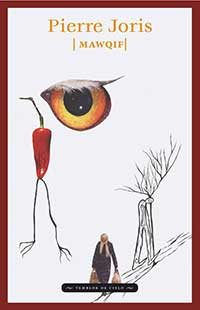 Título: Mawqif
Antólogo: Pierre Joris
Contenido: Poesía luxemburguesa
Colección: Temblor de cielo
Idioma: Español
Editorial: La Otra y Instituto de Cultura de Durango, Conaculta
Páginas: 288
Tamaño: 14 x 21 cm.
Tipo de Encuadernación: Rústico
Año: 2013
Precio: Moneda nacional 250 pesos, en el extranjero 25 dls.
I SBN: 978-607-8167-37-1


Sinopsis
Pierre Joris dejó Luxemburgo a los diecinueve años y desde entonces vivió en Gran Bretaña, África del Norte, Francia y en los Estados Unidos. Desde 1992 enseña cursos de poética en la universidad del estado de Nueva York (SUNY at Albany). Ha publicado numerosos libros de poesía, entre ellos Poasis: Selected Poems 1986-1999, y varias antologías (entre las más recientes Poems for the Millennium, volumen 1 y 2, A University of California Book of Modern & Postmodern Poetry), que realizó en colaboración con Jerome Rothenberg. Joris también cuenta con una vasta obra como traductor, la cual incluye traducciones de libros de Abdelwahab Meddeb, Paul Celan, Maurice Blanchot, Edmond Jabès, Habib Tengour, Tchicaya U'Tamsi y Kurt Schwitters, entre otros. Joris posee la rara cualidad de poner en diálogo por lo menos cuatro culturas y otras tantas lenguas, no sólo a partir de sus traducciones del francés y del alemán al inglés, sino también de lo que él ha dado en llamar una poética de lo nómade.
Joseph Mulligan
Publicado en Colección Temblor de Cielo, Libros de La Otra
* * *
(Visited 48 times, 1 visits today)