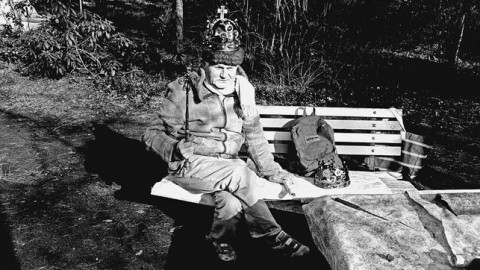 Today is the 100th B-day of the great Czech writer Bohumil Hrabal (1914-1997) &, by a quirk Hrabal would have approved of, yesterday the post man brought Hrabal's Harlequin's Millions, translated by Stacey Knecht & published by that ever excellent press, Archipelago Books. One of the most subversive figures of Czech — actually of East European, & even plainly of European mi-century literature — Hrabal is the ultimate gabber, or, the Germans would say, Bafler. Interesting word, this "bafeln: it's Yiddish roots – באפעלן \ba-FEL-en\  link the original meaning to a sequence that etymologically derives from Middle High German "bevelhen," from Old High German "bifelahan, bifelhan," itself from Proto-Germanic *felhanan (to conceal, hide, bury, trust, intrude) and the Proto-Indo-European root *pele(w)- (to hide) before it. Cognates include Middle English "felen," Modern English "feal," New High German "befehlen."  Thus to command, order, convey, communicate. But turned on its head, bafeln has become derision of authority, just talking, gabbing, joking, telling tall tales, etc. — not as the commanders do, but as the little people do, those to whom Hrabal lends his voice, his humor, his vision, undermining successfully the reinforced concrete cathedral of social realism (as Alena Wagnerová put it today in the NZZ). As Hrabal says elsewhere, "A respectable book isn't meant to help the reader fall sleep more easily, but should make him jump out of bed in his his long johns to deliver a few smacks to the writer's head."
Treat yourselves & get Harlequin's Millions, which is, as the publisher's site accurately says, "a beautiful novel peopled with eccentric, unforgettable inhabitants of a home for the elderly who reminisce about their lives and their changing country. Poised on the threshold between joy and melancholy, this novel allows us into the mind of a woman coming to terms with the passing of time." Ivan Vladislavić's blurb reads: 
Hrabal is a master at using the roles, rules and atmospheres of a particular place – the railway station of Closely Observed Trains, the hotel dining rooms of I Served the King of England – to explore a world of human experience. In Harlequin's Millions, the setting is a castle on the edge of a "town where time stood still," formerly the seat of Count Špork, now a retirement home for the district's pensioners. In this apparently confined space, he unfolds an expansive drama of old age and death, the fragile beauty of memory, and the persistence of desire. The book is infused with the memory of "old times" and a melancholy awareness of lost youth and faded beauty. Time does not stand still, it flows on relentlessly, and we carry the past with us only in stories. Hrabal's light, cascading prose, with its resistant undercurrents of pauses, diversions and repetitions, is perfectly suited to his themes. He carries you along on a sensuous rush of detail, and then suddenly bumps you against the bedrock of history. This is a mesmerizing novel, beautifully translated. 
(Visited 221 times, 1 visits today)