The Agony of I.B. - A Play by Pierre Joris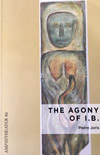 Editions PHI & TNL, Luxembourg.

HANS WERNER HENZE: We cannot simply rewrite the myths of old!

INGEBORG BACHMANN: Why not? Myths are just stories told. Stories that kill us all too often. Turn them on their heads. Rewrite them, retell them... The flame snake bit me, I feel, I think I am dying unless I'm already dead. It is what the myths do to the women, they all try to make us Helens guilty by birth, guilty by desire guilty by thought until killed and then pure figments of male imagination again.